Roanoke, VA
Today we rode 40 miles from Blacksburg to Roanoke, it was a great ride and my legs definitely appreciated the break after the last couple days of climbing through the Appalachians. The ride was through some rolling hills in the farm country, it was gorgeous and went quickly. We have a little free time this afternoon before our friendship visit tonight with an Autism Society at the Roanoke zoo,...
West Virginia
The last couple weeks have been a blur for me. The last update was from Indianapolis, from there we cruised to Cincinatti, then to Lexington. The ride into Lexington was one of my favorite days of the trip, it was absolutely gorgeous. The ride in was on a two-lane road through the horse farms outside of Lexington, I've never seen anything like the manicured pastures and gorgeous southern...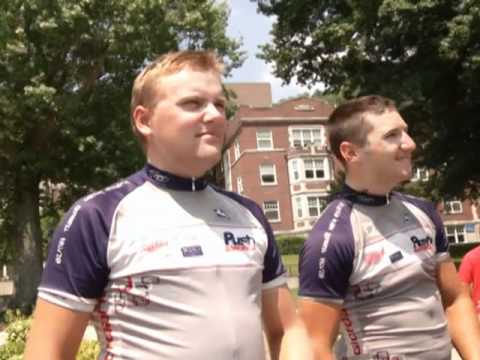 St. Louis, MO
Yesterday we had a 60 mile ride from Union, MO to St. Louis. We're still in the middle of the heat wave, but we're all starting to get used to the heat and it's incredible how much better shape we're all in than we were at the beginning of the trip. Coming into STL we had a 20 mile police escort through the suburbs of the city, then we had a great sponsored lunch (Subway...
Columbia, MO (Mizzou)
Yesterday we rode the heat wave into Missouri. We got up early for a sponsored breakfast by Mark Cameron and hit the road, 105 miles out of Kansas and into Sedalia, MO. Missouri has surprised me in lots of ways, but the biggest is how many hills are here. It was another hot day – 103 degrees with a heat index of 110 and I drank more water than I thought was possible. We had lots of turns and hit...
Olathe, KS
I want to apologize to everyone following my blog, I've been terrible about posting updates. BUT, I'm back and I'm going to be way more consistent for the rest of the trip. On Saturday, we hit our first real heat and humidity on a 105 mile ride into Emporia, KS. This was one of the toughest days on the trip for me, the heat was brutal and my attempts at staying hydrated...
Track the Team
Here's another cool link if you're following us. We have a GPS unit that we put in the back of a guy's jersey each day and it shows where we are each day on the map. You can track us HERE
Photos!
If you're following me, here's a link for pictures that gets updated almost every day. TransAmerica Pictures Link
Wyoming
I apologize for being so inconsistent with updates lately, it's been a busy couple weeks and I haven't had much Internet. I'll be posting some pictures today and have a more thorough update coming soon!
Montana
Today we had an easy 30 miles into Missoula, MT. Wifi has been hard to find for the last week or so, I apologize for the inconsistent updates. We spent a couple days in Idaho before cruising into Montana.  There's a really cool link where you can track the team, you can find it here.  Nothing big to report, we haven't had friendship visits for a couple days but we've had some...
Seattle!
I got into Seattle a couple days ago, it's one of the prettiest places I've ever been. The first day was off to a little bit of a shaky start, I ended up missing my flight but was able to jump right onto the next one and make it to Seattle in plenty of time. We had dinner at the UW Pi Kapp house, their house was awesome and they were super hospitable. Day 2 - We spent the day at the...
Watch
Video of the view over Puget Sound from the water, for some reason my phone couldn't figure out it was sideways.. I'll get that fixed before the next one.
It's Official
Big progress this week! I'm officially riding on the Trans America route this summer, I can't wait to ride through Yellowstone and Jackson Hole. You can find the new route itinerary HERE. I finally got a bike and all the gear today! I ended up getting a Specialized Secteur Elite and couldn't be any happier. Boulder CycleSport gave us a wonderful discount on the bikes and gear. ...
Thank You
To everyone who has donated, thank you SO much for your generosity. I'm truly blessed to have such amazing friends and family. I've had a series of donations in the last week that have been unbelievably generous and I couldn't do this ride without all of your support. I've been looking at bikes and all the related accessories, I'll have everything put together in the...
Donate to my Journey of Hope →
This summer, I'll be riding my bike 4,000 miles from San Francisco to Washington D.C. for people with disabilities, on behalf of the charity Push America.  The ride is called the Journey of Hope, and we hope to spread the message of empathy and acceptance for people with disabilities with every cent we raise and every mile we ride along the way. Did you know that there are over 54 million...
Quote for Today
"If I accept you as you are, I will make you worse; however if I treat you as though you are what you are capable of becoming, I help you become that" -Johann Wolfgang von Goethe
First Try
Still brand new at using Tumblr, trying to design a template and figure out how to post things. Journey of Hope fundraising is currently a little stalled, but things are coming along very nicely. That said, more to come soon.
First Post
I couldn't be more excited to be embarking on my pre-JOH journey. This blog will be a place to see my training updates, fundraising progress, and a lot of personal inspiration. It's still a little rough, but in the next couple weeks it will be fully up and running. A few updates: -I will be purchasing a road bike in the next month or so and beginning what I'm going to call my "fitness...